Gracie Bradenton Jiu Jitsu
Serving students of all ages in Bradenton, Lakewood Ranch & Parrish
Learn self-defense, build confidence, and get in the best shape of your life.

We'll show you how.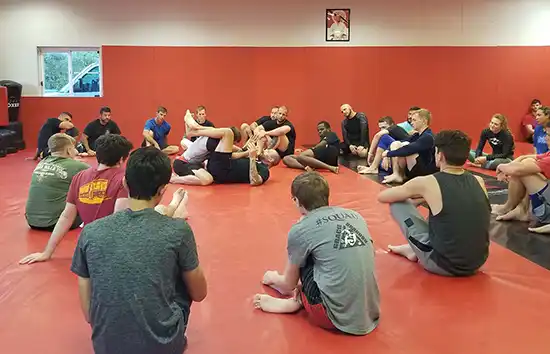 all levels welcome
Adult Brazilian Jiu Jitsu
Achieve your fitness goals while developing effective self-defense techniques for real-world situations.
As a martial art, jiu jitsu has tons of physical, mental, and social benefits, and best of all, anyone and everyone can do it. Become part of something positive and learn new skills from trained martial arts professionals with extensive knowledge and experience.
self-defense & self-reliance
Women's Jiu Jitsu
Get off the boring treadmill and explore how to use jiu jitsu to defend yourself against a larger, untrained attacker, no matter your size or strength. Kate, our head women's coach, is here to make you a skilled grappler against any opponent—male or female.
Jiu jitsu is a great martial art because you can start anytime, at whatever skill or fitness level you're at. Plus, Gracie Bradenton's female students support each other to help foster each person's growth with every class.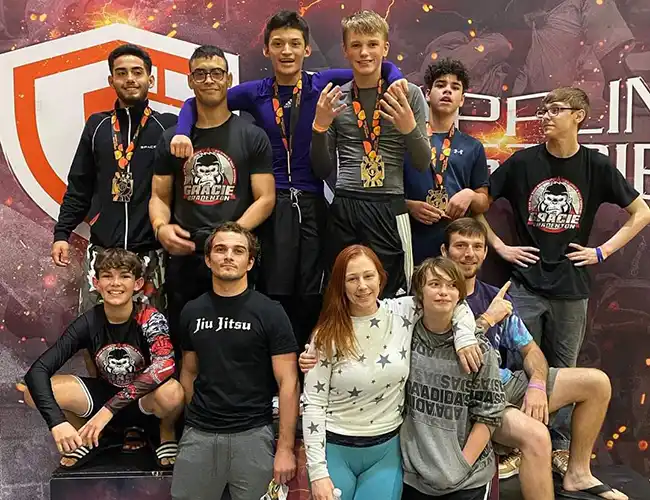 ages 4-15
Kids & Teens Jiu Jitsu
Give your kids the lifelong gifts of personal success, confidence, discipline, and self-defense. Martial arts classes benefit growing children far beyond the academy and in many real-world scenarios.
Our structured Brazilian jiu jitsu classes are meant to help develop coordination, physical fitness, mental strength, as well as gain valuable social skills. Through positive reinforcement, we can bring out the best in your children to help them succeed in life.
What Our Students & Parents Say






Recent Blog Posts
Show your most recent blog posts on any website page
Frequently Asked Questions
Where is Gracie Bradenton Located?

Our address is 5268 East State Road 64, Bradenton, FL 34208. We're not too far from I-75 and we're in the same plaza as Thai Wasabi and Peach's restaurants. In the plaza, we're located at the end, next to the florist shop.
Do you train gi or no-gi?

Right now, all of our classes are no-gi. We do have open mat after every class, so you're always welcome to coordinate with other students to bring your gi and practice in the gi then.
Am I required to wear Gracie Bradenton branded gear?

No, in fact you can wear gear repping other schools if you'd like. We want students to wear whatever they're more comfortable training in.
What is your drop in rate/mat fee for visitors?

We do not charge short-term visitors when they drop in for training. We just ask that you leave us a Google review if you have a good experience!
Do you have a free trial?
Do you train MMA fighters?

Yes, but first you need to be an active BJJ student at Gracie Bradenton with at least a blue belt (by our standards). Then we need to work with you to get proficient in other areas, like striking and wrestling, before we will consider putting you up for an amateur fight representing our gym. These criteria are in place for to maintain the safety of our fighters and our school's reputation.
How do you handle promotions and is there a fee?

At Gracie Bradenton, students are tested every time they live roll or compete in tournaments. Our coaches can observe students' progress each class, so we don't feel the need to formally test, especially since a person's performance can vary based on many factors for a given day.

We have two regular promotion ceremonies each year: one in May and one in December. Coaches can also use their discretion to give out belts or stripes during a normal class.

Gracie Bradenton will also NEVER charge any fee for advancement. We believe that our students pay with their commitment, dedication, and effort, and we are honored to see our students improve. It's about more than money for us. Rank is earned here.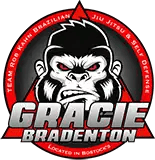 We'd love to hear from you
Want to learn more about us and the classes we offer?
Provide your info here and someone from our team will reach out with additional info and access to our limited-time special offers.
You'll also receive more information about our weekly class schedules for our adult and kids programs.